3) Taman Negara National Park
4) Bukit Tinggi
5) Old Gombak Road
6) Genting Highland
7) Krau Forest Reserve
8) Langkawi Island
9) Kota Kinabalu
10) Kinabalu Park
11) Poring Hot Spring
13)Tambunan Rafflesia center
14) Sepilok - Rainforest discovery center
15) Kinabatangan River
16) Danum Valley
17) Tabin Wildlife Reserver
18) Panti Forest
27) Bidor Mining Pond
28) Langkawi Island
29) Byram mangrove
31) Tabin Wildlife Reserve
32) Kubah National Park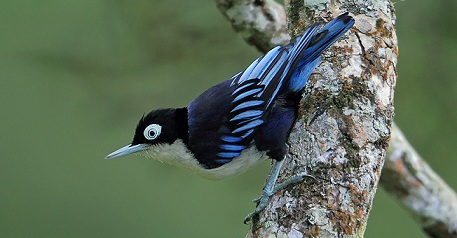 The Rare Blue Nuthatch
We at endemicguides.com are committed to providing you with the best available travel and most sustainable travel plans. It is a commitment our company has made since our establishment. Our promise to you is that all our destinations retain their natural character and cultural diversity for future generations. We can only achieve this vision with the support of all of our travelers and business partners.
Our aim is to maximize the positive benefits of tourism for host communities. This includes employment of local staff/guides, using local suppliers, assisting in development of sustainable local businesses.
Sustainability is our business planning and operations theme. We ensure that the natural and cultural values of the regions in which we operate are not undermined. Traveling is not just basic sightseeing; you will have great opportunities to learn, both about the destination and its local cultures as well as share with everyone your experiences, thus promoting awareness for the protection of the environment.
Local Guide always have something different prospective view of own country. There will tell you the 'truth Malaysia' !.
Just a short email to say how much we enjoyed our trip to the Danum Valley, Kinabatangan and Sepilok which you arranged for us. We had a wonderful time with great experiences both on land and on the river, were extremely well looked after and had many superb wildlife sightings, including two orang utan Mothers in the wild with their young; one of them was making up her nest for the night and that was an extraordinary experience. All arrangements worked like clockwork, and I'd like to thank you for the efficiency and positive, helpful and friendly attitude with which we were met throughout our stay. Borneo is a beautiful country and I am sure I will be back one day and I will certainly recommend it, and your organisation, to friends who enjoy wild life holidays.

Thanks again.

Best wishes
Adrian McLoughlin March 2008
Then, how about the blood sucker in the forest ? >> Read More
The leeches in the rainforest are particularly "vicious" and really blood-thirsty. As you make your way in the wet rainforest trail, you will realise and learn how just how blood-thirsty they are. There are leeches just about everywhere, somersaulting and quivering in all direction.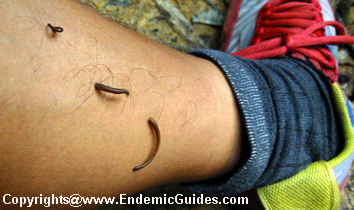 Bird Watching One Day Tour
Kuala Lumpur
Kuala Selangor
Krau Forest Reserve
Genting Highland
Old Gombak Road
Fraser's hill
Bukit Tinggi /Berjaya Hill
Bukit Telapak Buruk
Penang
Within Penang Island
Seberang Perai
Kuala Gula
Byram
Langkawi Island
Around Langkawi
Kota Kinabalu
Around Kota kinabalu city
Kinabalu Park
Crocker Range
Manukan Island
Kuching
Around Kuching City
S

emenggoh Forest Reserve
Bako National Park
Matang Wildlife Center

Book Hotels In Malaysia